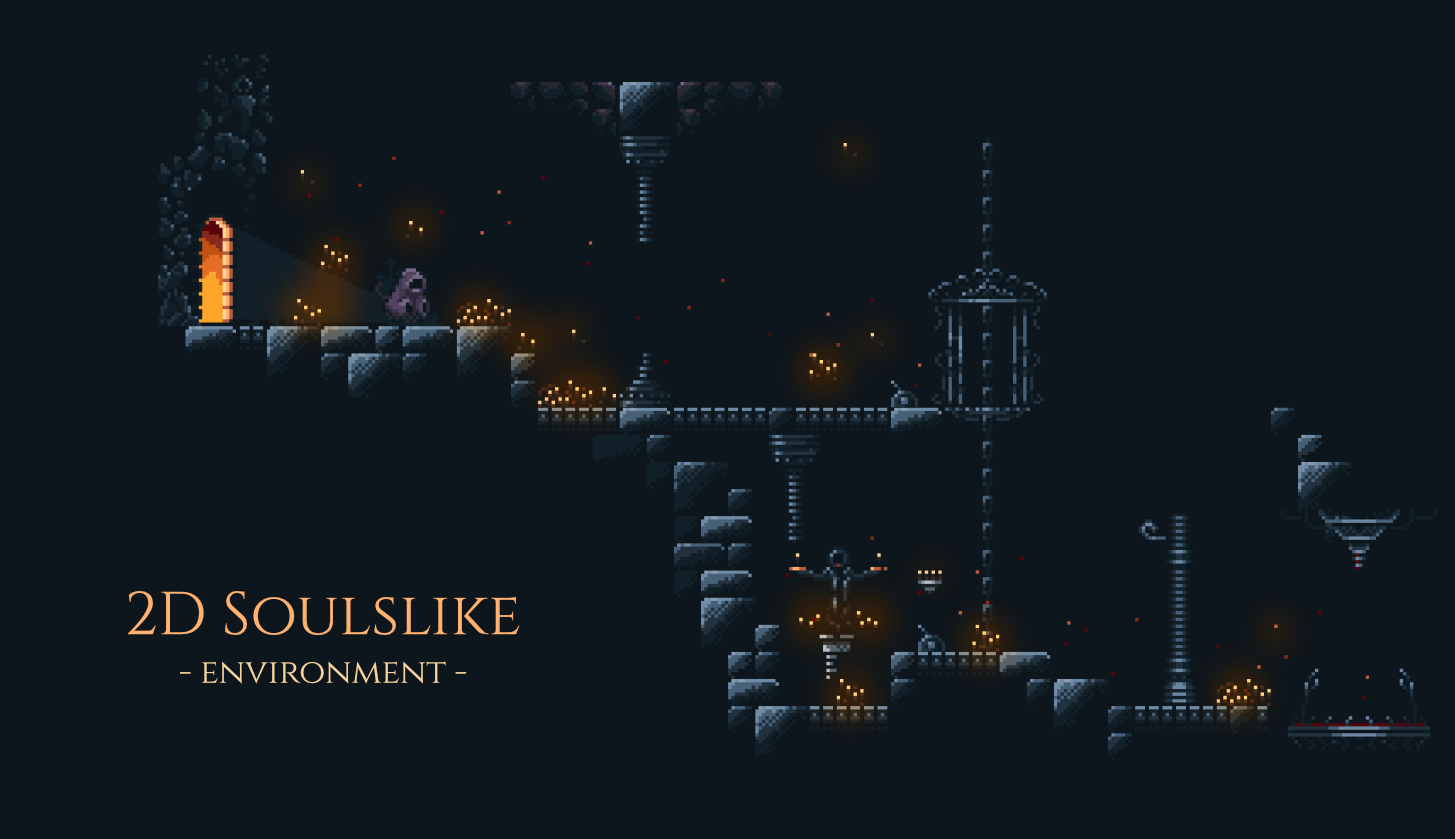 2D soulslike metroidvania dark fantasy environment tileset
A downloadable asset pack
note: header-image is edited with lighting effects (not included, need to be "engine" made)


This asset pack contains sprites for building a dark fantasy world, inspired by soulslike games. You get basic floor and wall tiles, some environmentals, doors and parts for building gothic-like structures. Included is also some UI that should be enough for Menu, Dialog, buttons, choiceboxes, life and energy UI.

This assetpack is sizewise compatible with my other HUGE and Metroidvania Sets.
https://s4m-ur4i.itch.io/2d-metroidvania-tileset-16x16
https://s4m-ur4i.itch.io/huge-pixelart-asset-pack

This is an environmental asset pack, all static, no animations. For referrence there are some static character sprites (knight) included.

You will get:
- A PNG for use in your game
- A Tiled file (TMX) for referrence
- A PSD / EPS sourcefile


If there are any questions, feel free to ask :)
cheers!
| | |
| --- | --- |
| Status | Released |
| Category | Assets |
| Release date | Jun 13, 2019 |
| Rating | |
| Author | Sam |
| Made with | Unity, Unreal Engine, LÖVE, Tiled, Godot, Phaser, PixiJS |
| Tags | 2D, Dark Fantasy, environment, matroidvania, Pixel Art, soulslike, Tileset |
| Asset license | Creative Commons Attribution v4.0 International |
| Links | Twitter |
Purchase
In order to download this asset pack you must purchase it at or above the minimum price of $5 USD. You will get access to the following files:
s4m_ur4i_8x8_2d_soulslike_gothic_tileset.tmx
500 kB
s4m_ur4i-2D-gothic-soulslike_tileset.png
41 kB
s4m_ur4i-2D-gothic-soulslike.psd
453 kB
s4m_ur4i-2D-gothic-soulslike.afdesign
1 MB
Comments
Log in with itch.io to leave a comment.
Oh man this is beautiful !!!
i'm too broke to buy this , but hopefully someday i will
Great work! How many colors are used?
Fantastic tileset! Purchased right away. Only note, the tileset is 8x8 but you state its compatible with 16x16 which confused me a bit. :) Might want to specify tileset size in description. Otherwise freaking amazing work!!!
Hey, sorry for the late reply.
Thanks for your message :) This tileset uses 8x8 as the other tilesets too. All the sets use a bit different technique than usual Tilesets. The smallest "rocks" are 8x8, and 16x16 are the bigger ones (four 8x8 blocks). The characters in HUGE are also created to fit that sizes.

I can see why this is confusing. I think I will just delete the 8x8 out of that sentence, since it's just important to know that it is compatible. Again - Thanks a lot :)
This is amazing. really good work. are you planning on making some characters that can go with all these sets? usually that's my problem, I find great tilesets but no characters that match the style. will buy your bundle tho, too good to let it pass. Kudos!
Hey thanks a lot!
The question came a few times. but there is a problem with characters in general. since they need to have all necessary animations: every game need different stuff. and then some devs need different enemies. it's never an excact fit. so doing all the chars and animations will end up in an quite expensive set. just for like 4-6 characters. that's the reason why you don't see so many char sets. I think - they are also more time consuming than tilesets; so the price would be higher.
Maybe I will do some. But I won't promise it for now. I think the need for it is there. but to fit a style for everyone is impossible. that's at least my experience.
Yes I understand that, but what I mean, that the tileset author could do some character that go with the tileset style... I don't mean to say that it should fit all users... but in my search, since I'm a dev but not an artist, I try to search for complete sets event when they don't have everything I need if they have characters with the basics things like idle, walk, attack and die that's enough to start a game, but that doesn't happen and I find so many amazing tilesets but no character that fit the style :(
well, let's see if we have something for you ready then - in the next weeks ;) I will need some time for that, will probably go as a separate asset pack, since not everyone want's it for the full price.