rogue noir | Cyberpunk Assetpack
A downloadable animated asset pack


This assetpacks theme is about cyberpunk combined in a dark world out of ideas from reading HP. Lovecraft. You will find mechanical and biological environment tiles, fully animated environments. From vine-covered ground, to cave-like rocks and tech-patterns. The idea was to combine a cyberpunk style platformer with dark patterns that would probably be described as "soulslike" stuff.

Even tho there are tech-tiles and a general future theme included, it's not lacking of ugly bone-exposed monsters and organic backgrounds, that will make the player shiver.
Colors are picked carefully. They are dimmed to create dark patterns that fade into the black background, additionally some of the lighter colors are full-blown saturated to get bright lighting key-visuals. The whole set is meant to be use with the dark background and should be used as a single-tile placement. However there are 9-slices Tile-blocks too.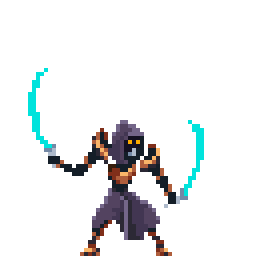 You get the full blown set, including:
Full pack of animations (~ 50 animations: gif & png-sequences incl. ase file)
Fully animated main character [idle, run, shoot, attack, jump / land]
Fully animated set of enemies (Brain, sneaker, dark lord)
Animated NPC (2: idle, point, talk)
Complete Tileset (800+ Tiles for 4 biomes: woodlands, rock, dark cave, tech including backgrounds: light forest, dark forest, cave)
Basic UI components included (UI frame, text frames, health, energy, some decoration UI)
Example TMX file (Tiled)
Files included: PNG, PSD, ASE, GIF, PNG-SEQUENCES (If you need more, tell me)

Tileset size: 16x16 base size, RGBA sRGB

UPDATE 1.1 MADE OF FLESH AND METAL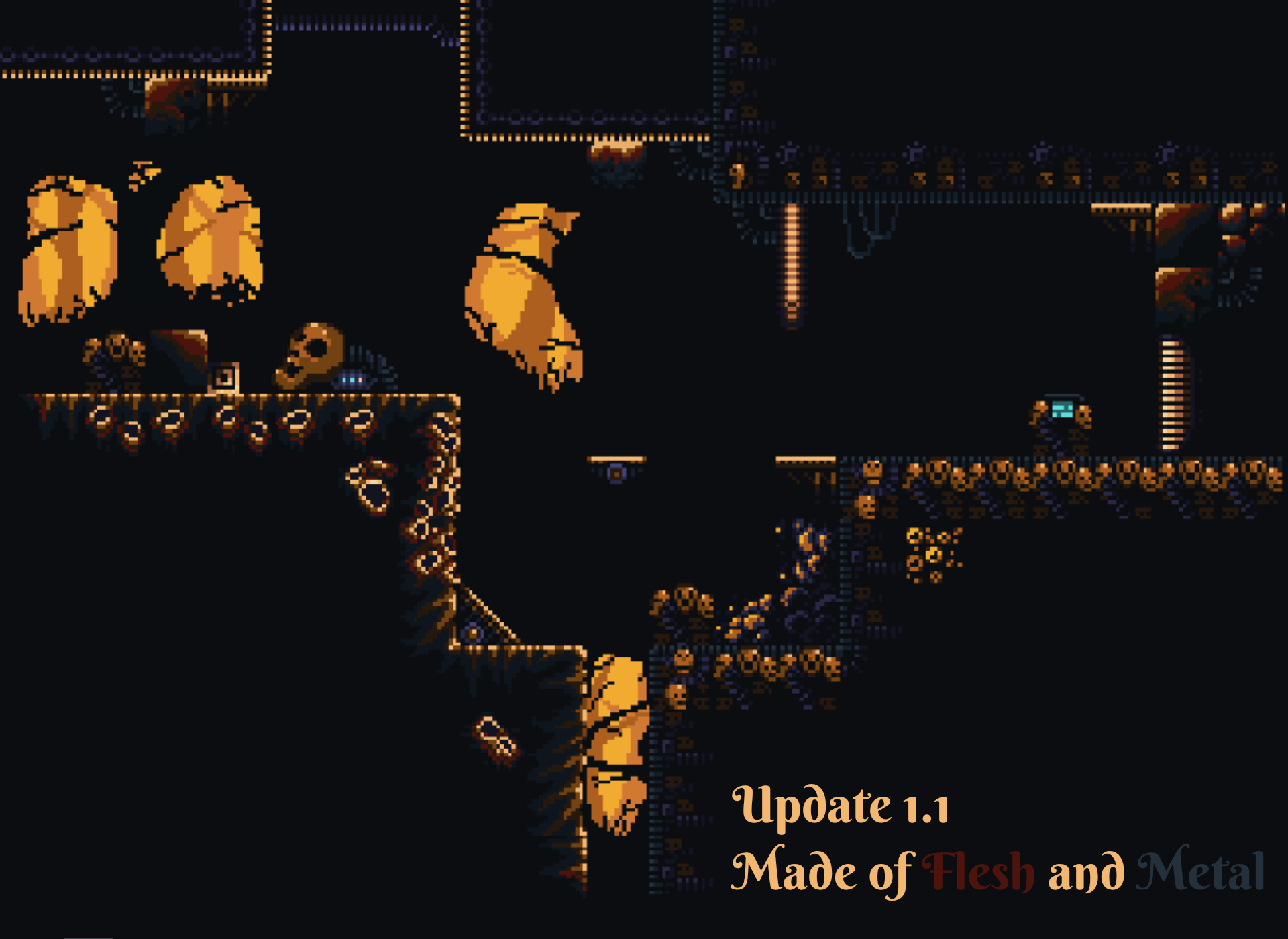 - Adds 110 new Tiles
- Adds 4 new 9 Slice Groundtiles
- Adds 1 new Biome
- Adds slanted corner Tiles and moving platform



| | | |
| --- | --- | --- |
| Do you resuse the graphics in your own game? | Can I use the graphics for commercial projects? | Where are the colors from? |
| No. However since I mostly do very minimalistic pixelart, there might be some Tiles that are the same. But this is not an intended technique to generate more tiles. a 8x8 space is limited so sometimes shapes are the same. I do my own games, but I do not use my own asset packs for those. | Yes. Once you purchased the assetpack, it's yours. You can do commercial work with it. The only restriction: you cannot sell the assetpack or parts of it. You however are permitted to release a game that includes the assetpack for game graphics (of course!) | There is a nice little website: https://lospec.com/ which I love using for colors. Sometimes palettes there suit the needs of an assetpack, often I use multiple palettes and then generate my own out of it. |
You can use the comment-section below for visible Q&A to everyone. You can also reach out to me via twitter: @s4m_ur4i


| | |
| --- | --- |
| Status | Released |
| Category | Assets |
| Rating | |
| Author | Sam |
| Made with | Unity, Unreal Engine, GameMaker: Studio, LÖVE, Aseprite, Tiled, Phaser, Adobe Photoshop, Adobe After Effects, AppGameKit |
| Tags | 2D, Cyberpunk, Dark Fantasy, Minimalist, Pixel Art, Space |
| Asset license | Creative Commons Attribution v4.0 International |
| Average session | A few seconds |
| Languages | English |
| Links | Twitter, Homepage |
Purchase
In order to download this animated asset pack you must purchase it at or above the minimum price of $9.99 USD. You will get access to the following files:
s4m_ur4i_rogue-noir.psd
959 kB
s4m_ur4i_rogue-noir.afdesign
1 MB
Comments
Log in with itch.io to leave a comment.
This is beautiful, you're so talented! I will definitely be using this for my school project. :D
Hey Sam, I really like your style. Please make more another asset pack.
Thanks :)
Amazing stuff.
Thank you!
Holy .. this is A M A Z I N G

I will be waiting for your new packs ! (especially new enemies / bosses) please keep up the great work !
thanks :)
I will do my best. You can also get in contact with me on twitter (@s4m_ur4i) if you need something specific on commission.
I try to get out things asap, but it needs time ;)
What is the color palette?
Thanks for the art. I bought it! The pack is awesome.
Did bosses and enemies will be in an other asset pack?
Thx!!!
Hey,
you can find all character stills in the Tiles/character.png
More intreating are the animations, all characters are fully animated in the Animation Folder as png, gif and ase.
The color palette is made by myself. It's a mix of preexisting palettes but added colors and modifications.
hope that answers everything
~ Sam